Each month, we feature BtGA team members who have made a significant contribution to our organization. From impacting our daily processes and procedures to shaping our culture, our team members come from diverse backgrounds and are constantly finding ways to spark greatness within BtGA.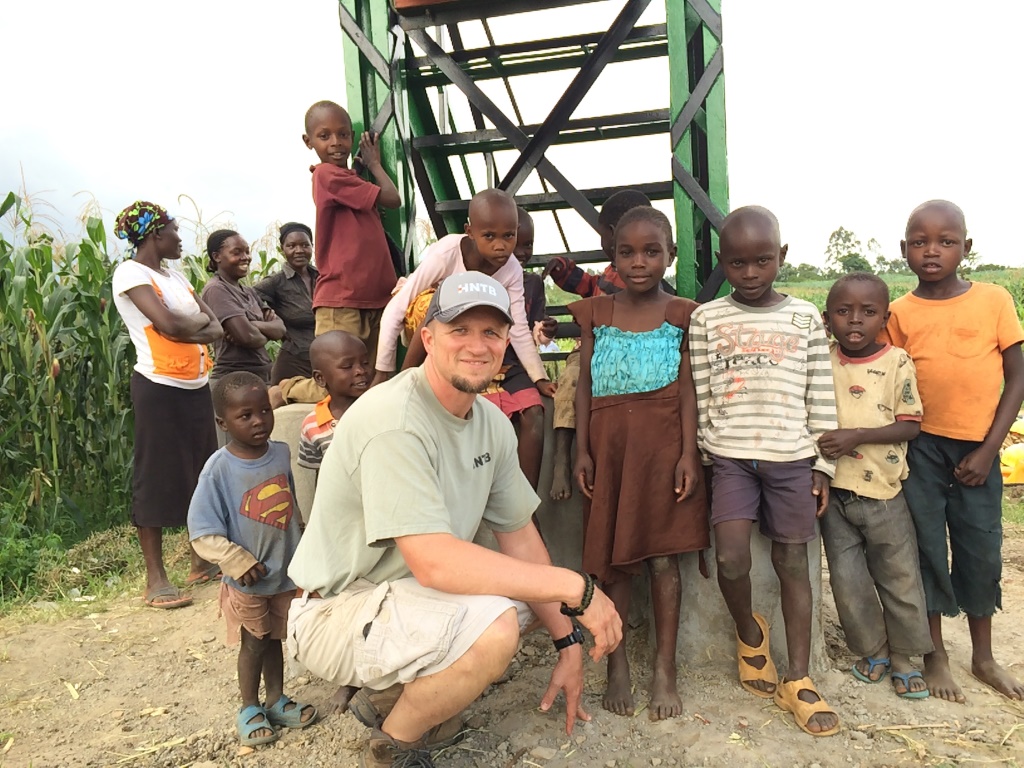 1. What is your personal philosophy?
Fulfill the plan and purpose God has for my life through my knowledge and experience as a bridge engineer. Show others grace because it has been so freely given to me. Love my wife and kids as best I can and always cherish my time with them because life moves so quickly. Life is precious, so do my best to serve others while I can.
2. Where were you born? Where are you from?
I was born in the Democratic Republic of Congo (formerly Zaire) to 2nd generation missionary parents who still live and serve there today. My Dad's parents served there as well in the 50's and early 60's and my grandfather Burleigh was martyred in 1963. I lived in Africa 11 of my first 18 years, including 3 years at Kijabe, Kenya to attend high school at Rift Valley Academy. Nicholasville, Kentucky was home when we were in the States.
3. Where did you graduate? What did you study? Any certifications?
I graduated from Asbury University in 1995 with a BA in Physical Science and from the University of Kentucky in 1996 with a BS in Civil Engineering. At that time Asbury and UK had a 3-2 program. I took all of the standard undergraduate courses like English, science, and math at Asbury, then all of the engineering courses at UK. I'm a licensed professional engineer in three states.
4. What three traits define you?
I'm very thorough and detailed oriented, as you would hope with a bridge engineer. I'm a bit of an introvert, but I can be assertive, vocal, and proactive when needed. It's taken me time to learn this, but I like to be very thoughtful, considerate, logical, and fact based in my responses to challenging or controversial topics or issues.
5. Favorite book/movie?
Sadly, I haven't read very many books in the last several years, so clearly, I need to do more reading. The most recent book I read was You and Me Forever – Marriage in Light of Eternity by Francis & Lisa Chan. It's about how to have a healthy marriage by first being a healthy follower of Christ and served as a great reminder even after 24 years of marriage. My favorite movie is either Forrest Gump or the Lord of the Ring series. As an engineer, I'm a bit of a sci-fi geek, so also love the Marvel movie series like Avengers and the more recent Star Wars movies.
6. What are you most looking forward to?
Wow, that's a tough one since there are so many. I love spending time with my wife and kids, especially on vacation, and Father-Son outings or Daddy-Daughter dates, I love seeing how God is moving in the lives of my kids through the good and the bad, I love to golf and enjoy the outdoors, I love traveling to Kenya for a bridge build, I love winning projects at work, delivering on deadlines, and making clients happy.
7. What drew you to BTGA and how has BTGA changed has since joining the team?
The lack of infrastructure in Africa created in me a desire to become a civil engineer, with an emphasis on bridges. Most of the vehicular bridges over there are terrible and would scare the bravest of you, so I knew bridges was the way to go. I've always known I would someday use my skills as a bridge engineer in Africa, but never found the right opportunity. The urge and desire to serve in Africa became stronger than ever toward the end of 2013, so I began searching for organizations building bridges in Africa. I discovered BtGA and was pleasantly surprised to see Harmon as the founder and director. Harmon has been a longtime family friend, having built our home in the Congo in 1985 using his mason skills, but we hadn't been in touch for years. I immediately reached out to Harmon to see if there was an opportunity to serve and here we are 4 ½ years later.
8. What is your wish list for the organization in the next 5 years?
For BtGA to have raised enough funds to support building at least 10-20 bridges per year, expand into other African countries, have a full-time design team, have more full-time staff and boots on the ground in Kenya, have trained, hired, and retained a strong team of Kenyan engineers and skilled laborers and builders, and have all the necessary trucks and equipment to support all of the above.
9. What is the favorite part about working for BTGA?
There are many, but definitely includes working alongside Harmon and a great group of committed members on the TAC. We all have full-time jobs and families, so it can be challenging to find enough time to volunteer. And really more than anything, to see the smiles on the faces of children and women crossing a brand-new bridge for the first time.
10. Tell us something that might surprise us about you.
Growing up in Africa generates many surprises and life changing opportunities not afforded to others. We had a lion on our farm in the Congo when I was 2 years old, I had malaria 7 times, I almost got bit by a black mamba and many other snakes were it not for my Congolese friends, as a family we saw the mountain gorillas in eastern Congo after an hour and a half hike through dense and dangerous forests, and I climbed Mt. Kilimanjaro as a senior in high school.
"I've always had a strong desire to give back to Africa and its people, so I loved being able to join BtGA as a volunteer in late 2013/early 2014 after 18 years into my professional career." – Burleigh Law